Naryshkin: Russia will help restore the Donbass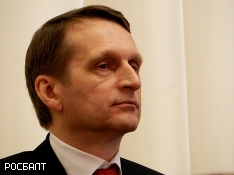 MOSCOW, Feb. 18. Russia will help restore the Donbass. On this, as reported by
RIA Novosti
, said the chairman of the State Duma of the Russian Federation Sergey Naryshkin.
"We now provide assistance primarily humanitarian aid to residents of Donbass. I believe that Russia will not stand aside and, of course, will help restore the Donbass, but this is a great and common task of both Russia and Ukraine. I hope to This will connect our European partners, "- said the speaker of the State Duma.
Meanwhile, according to Naryshkin, the supply of US weapons lethal lead to the disruption of the Minsk agreements. In this case, Naryshkin stressed, "the responsibility for this will be the official and Kiev, and official Washington."
On the eve of President Vladimir Putin suggested that US weapons deliveries to Ukraine are already under way, but neither they nor any other delivery does not change the situation in the East of Ukraine.
"With regard to possible supplies to Ukraine, first, to our knowledge, this weapon is available now. And there's nothing extraordinary," - said Putin.
As previously reported, the US leader Barack Obama is considering the supply of arms of the Ukrainian army, but "he has some doubts about this decision." Later, during the Munich Security Conference, the head of the Armed Services Committee of the US Senate, John McCain called "immediately" begin deliveries of weapons to the needs of the Ukrainian army. The Ministry of Defence of Ukraine has already transferred to the American side a list of the necessary military equipment.